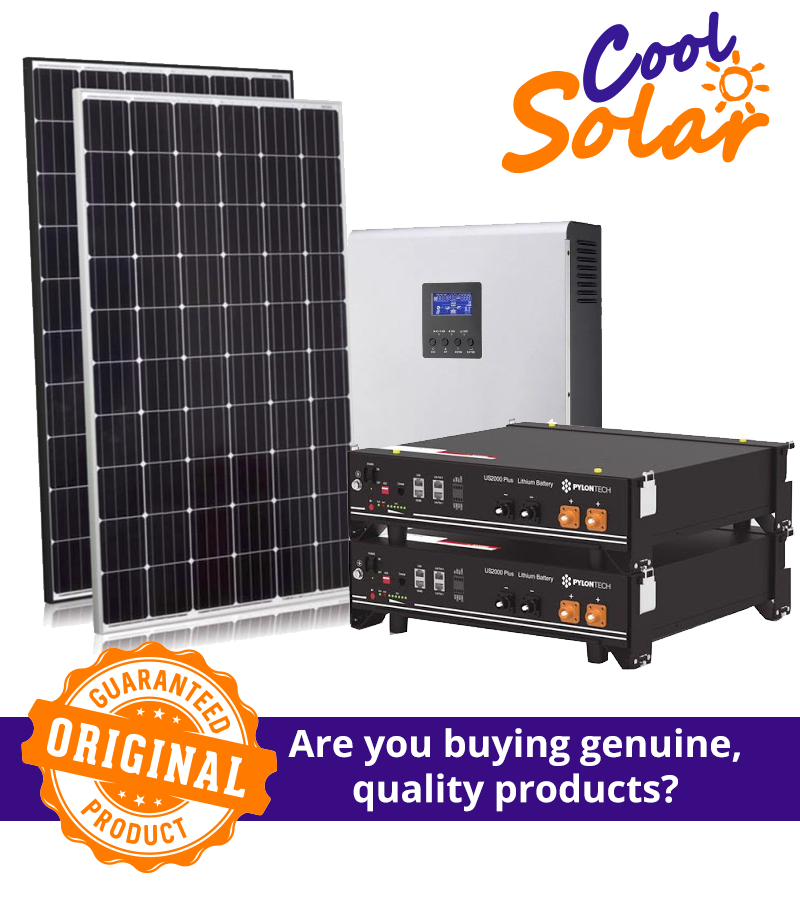 The rising demand for solar power has attracted unscrupulous players to the market. These people are selling fake or even dangerous solar panels and components and you need to be aware of this when making a purchase. We have noticed an uptick in the number of fake and substandard products that are being sold as genuine components, usually at the same or even higher price than the real thing. Solar panels and batteries seem to be the main elements that are being targeted currently.
Fake or substandard solar panels
The use of substandard panels has affected the amount of energy clients get, yet in most instances they will have paid full price or even more. Solar panels are made to last for 25 years plus. However, their day to day performance will greatly depend on factors such as quality and installation. Things to look out for when buying solar panels:
Check that you are buying new, never installed panels.
Ensure that the power rating on the solar panel matches the box. People have been known to sell a higher wattage panel but install a lower wattage inferior product.
Look for the tell-tale signs of faking. Poor spelling and mismatched printing or technical specifications. Any sign of label tampering. Misspelt company names and adjusted logos made to look like the original.
If you have any concerns make sure you are getting the wattage you are paying for by asking for your installer or distributor to test your panels. If they are genuine they should have no issue with that.
Secondhand solar batteries
The old adage rings true with solar batteries, if it sounds too good to be true it probably is. If you have been offered an unbelievable bargain on a solar battery that should start to ring warning bells. There has been a resurgence of unethical dealers and installers offering second hand lithium ion batteries and quoting almost as much as a new battery. Always be sure to find out if you are getting a brand new battery. This is vitally important as batteries have a set lifecycle and if someone is selling an old battery the likelihood is that it is near the end of it's life. Ask the question as many are conveniently "forgetting" to inform their client that the battery quoted for is in fact used. If you have any concerns ask for an independent expert to test and assess your battery.
Get solar products from a certified distributor
Buy your solar products from a licensed distributor and insist on getting a warranty. Monitor your solar system regularly during the warranty period to detect any defects or unexpected behaviour. In case you detect defects or inconsistencies, ask for an independent certified expert to test and assess.
In conclusion, always buy from reputable sources and hire certified technicians to install solar for you, and ask them to test the system for you.