Outfitting your home or business with solar energy solutions is a long-term investment in the future. Reductions in the cost of solar systems have been seen over the past 5 years and coupled with the ever increasing cost of energy means you should really consider solar as a part of your investment portfolio.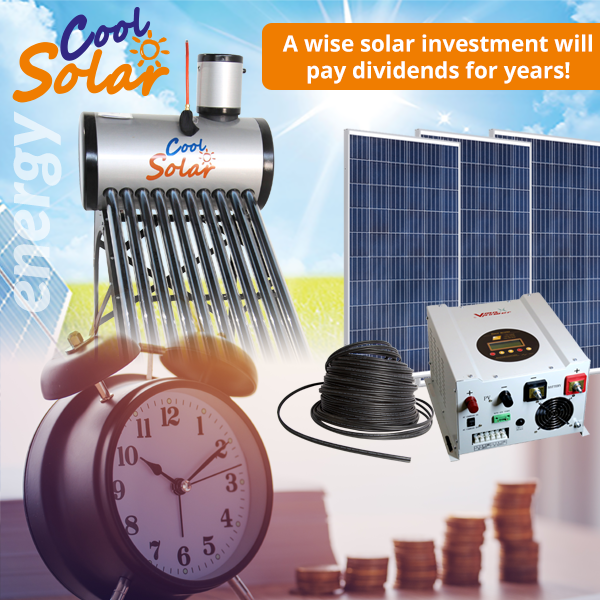 Cool Solar Africa supplies solar products with warranties of up to 25 years and we fully support our products. Consider us your investment advisors, there to offer advice and support and ensure you are getting the most from your investment in solar energy. A custom solar power system is an asset that will continue to pay dividends years into the future and choosing the right product from the start is critically important. Many of the systems that we supply today will still be producing power, supplied free by the sun's rays, for many years into the future, and we will be there to support them.
We stock Vmaxpower superior grade inverters which carry an excellent warranty that is backed up by us. These inverters may appear to be more expensive in the short term but in the long term the value of buying a high quality inverter will definitely pay. These inverters use low frequency transformer technology to provide pure sine wave power. This technology translates into a more durable and reliable product which is particularly suited to inconsistent and fluctuating voltage and power outages. The built-in solar charge controller eliminates the need for additional equipment and the extreme overload and super load capacity allows these inverters to deal with unexpected usage surges and allows for the use of high wattage appliances such as airconditioners and power tools, something most inverters are just not capable of. By investing in a Vmaxpower inverter you will experience less problems and more uptime than with other cheaper brands meaning you will spend far less in replacement and maintenance over the years.
Our range of IBC Solar panels carry a 25 year linear power warranty and 10 year product warranty. This warranty is one of the best in the industry and we believe that panels fitted correctly by qualified installers will be providing power from the sun's rays for decades into the future. A choice of quality, high effiency solar modules is key to getting a consistent return on your solar energy investment.
Replacing an old electric hot water system, which for most people represents more than one third of their total energy consumption with a solar geyser system like the very efficient evacuated tubes collector system which Cool Solar Africa geysers employ, gives even higher returns (in most cases in excess of a 20% saving on monthly electricity bills).
In short a wise solar energy investment can pay dividends for years to come, alternatively an ill-informed decision based on immediate cost benefits will cause you maintenance and replacement nightmares.
Choosing to invest in quality products with warranties and support will provide long term peace of mind and financial rewards. Let Cool Solar Africa guide you in your long term solar energy investments. Cool Solar Africa, providing energy in abundance!
For more information and advise please call or WhatsApp us on +263 778 200 404, email us at info@CoolSolarAfrica.com or visit us at 69 Steven Drive, Msasa.