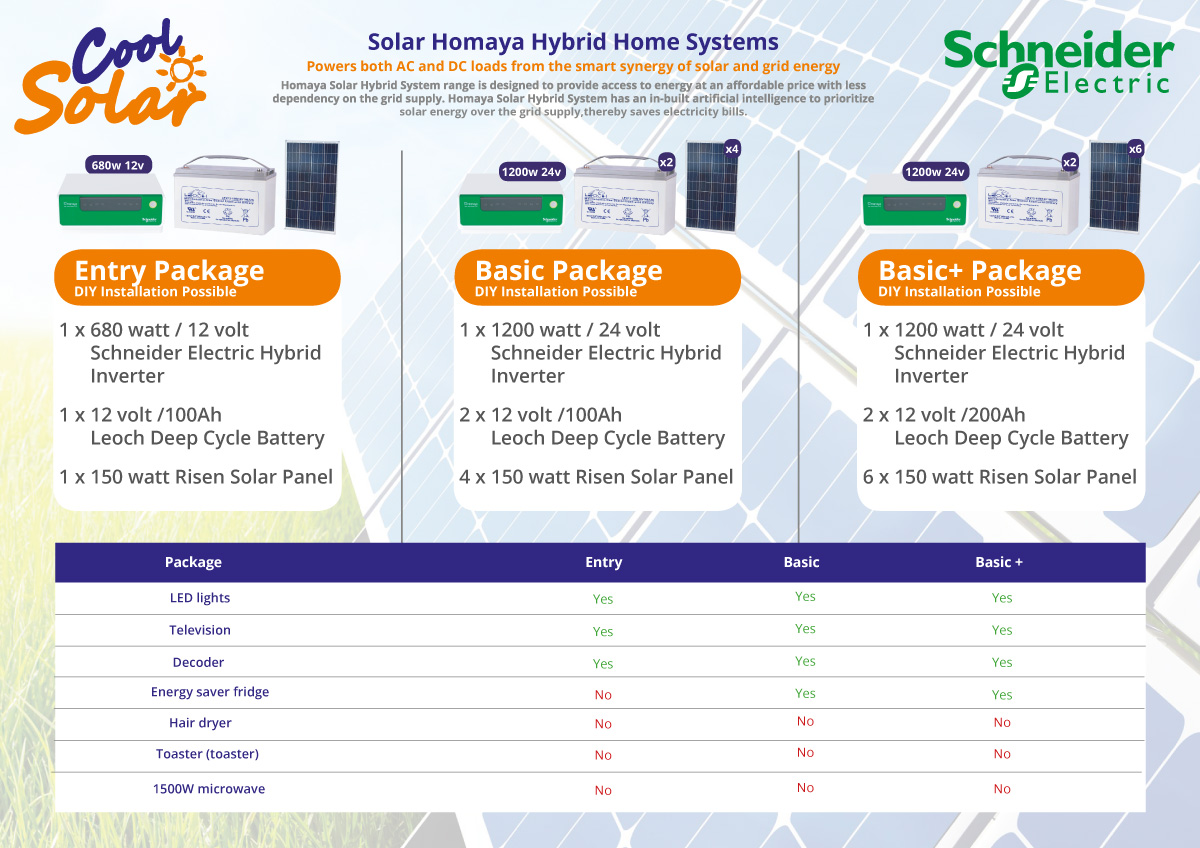 What can I run on my Schneider Electric system?
Many Zimbabweans are experiencing crippling load shedding and up to 18 hours a day with no electricity from the grid. Most are looking for cost-effective and sustainable solutions to keep the lights on and run essential appliances. We have created a range of entry level off-grid systems, using the Schneider Electric Homaya hybrid inverters, gel acid batteries and Risen solar panels. These systems are ideal to keep lights and small appliances running in the event of a power outage.
We often get asked the question "What can I run on my solar system?". The answer, in a nutshell, is you can run small appliances on these systems such as LED lights, TV, radio, decoder, and your internet router. The larger of these packages is capable of running an energy saver fridge (note the energy saver bit in that sentence – older energy hungry fridges will drain your system very quickly!).
You need to be aware of the load of appliances and whether your solar system is going to be able to run them. These inverters range from 680 watt to 1200 watt and as such have limitations. For instance it would be impossible to run an electirc geyser, an electric kettle, an electic stove, a microwave, a hairdryer or a lawnmower on these systems.
As a general rule think that if an appliance requires heat or a high watt load it probably won't be able to run on these systems. This can be managed if you plan accordingly. For instance, we recommend that instead of trying to run an electric stove, electric kettle or microwave on solar you use a gas stove. If you are aware of the limitations you can adjust to suit, as an example you can still have hot water by installing a solar geyser.
These packages are entry level systems which are a great cost-effective solution to the current load shedding. If you are looking to run more appliances with a higher power draw we do design bigger solar systems. Speak to us or your solar installer to get advice as to the best system to suit your requirements and budget.